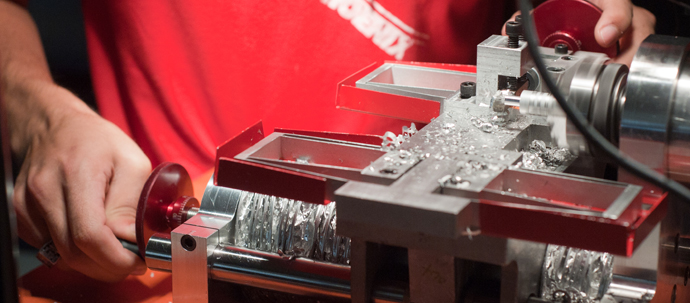 Featured Courses
The Department of Mechanical Engineering at MIT embodies the motto "mens et manus" — mind and hand.
One of the six founding courses of study at MIT, Mechanical Engineering embodies the motto "mens et manus" — mind and hand. Disciplinary depth and breadth, together with hands-on discovery and physical realization, characterize our nationally and internationally recognized leadership in research, education, and innovation. MIT mechanical engineers have always stood at the forefront in tackling the engineering challenges of the day: inventing new technologies, spawning new fields of study, and educating generations of leaders in industry, government, and academia.
Research and Innovation
Today, mechanical engineering is one of the broadest and most versatile of the engineering professions. This is reflected in the portfolio of current research and education activities in the department, one that has widened rapidly in the past decade. Our faculty and students are involved in projects that aim to bring engineering solutions to a spectrum of global challenges, including the development and design of:
Clean and renewable energy technologies, including research in photovoltaics, wind energy, fuel cells, thermoelectrics, and carbon capture
New thermal and membrane technologies required for water purification and desalination
Instrumentation, controls, and other technologies required for medical therapies and biomedical exploration
Vehicles, acoustics, and control systems for underwater exploration and environmental monitoring
Structured materials and advanced technologies for protection and security of our first responders and soldiers
Precision devices, machines, and robotics
To meet these challenges, research in the department is coordinated across seven collaborative disciplinary thrust areas:
Education
Undergraduate Programs
Our undergraduate programs combine a broad-based education in the engineering sciences with project-based laboratory and design subjects to give graduates a strong grounding in quantitative, problem-solving, design, and communications skills. MechE majors may choose from three SB degree programs, including the traditional mechanical engineering degree, the flexible Course 2-A engineering degree, or the joint mechanical engineering/ocean engineering degree. For more information about our undergraduate programs, please visit:
http://meche.mit.edu/academic/undergraduate
Graduate Programs
The Graduate Program in Mechanical Engineering creates a community of top-notch scholars by bringing together faculty members and graduate students with a common interest in innovation, creativity, and advanced professional study. MechE offers the research-oriented Master of Science (SM) and Doctor of Philosophy (PhD) degrees, or the equivalent Doctor of Science (ScD) degree. Additionally, the Department offers a joint SM and PhD degree program in oceanographic engineering, and a Naval Construction and Engineering program that enrolls officers from the US Navy and navies from around the world. The Department also partners with the MIT Sloan School of Management for both the dual-degree Leaders for Global Operations program (LGO) and the Ocean Systems Management program.
We also offer professional degrees that emphasize comprehensive learning with broad applicability to industry. These degrees include the Master of Engineering in Manufacturing (MEng), Mechanical Engineer (ME), and Naval Engineer (NE).
For more information about our graduate programs, please visit:
http://meche.mit.edu/academic/graduate
In addition to the Mechanical Engineering courses listed below, see also OCW's Supplemental Resources associated with the department.
Mechanical Engineering

Courses
Archived Mechanical Engineering Courses
Some prior versions of courses listed above have been archived in OCW's DSpace@MIT repository for long-term access and preservation. Links to archived prior versions of a course may be found on that course's "Other Versions" tab.
Additionally, the Archived Mechanical Engineering Courses page has links to every archived course from this department.